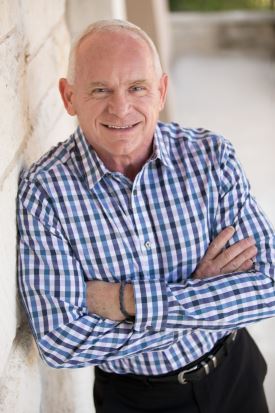 With a family that owned foodservice operations featuring high-volume cafes, quick serve, casual dining, bakeries, and delis, Robin Harmon was in the food business before most kids even had their first job.
Around that same time, Robin started taking a deeper interest in his own health through weight training and seeking information on where his food came from.
After graduating college, Robin found his way to foodservice programs for convenience stores. He began with selling coffee, sandwiches, and snacks; transitioned to commissary logistics and franchise-brand operation; and eventually worked in procurement and category management of foodservice products.
While dodging in and out of convenience stores for his job, Robin faced a challenge that would resonate with any health-conscious person on-the-go, and especially those on the road: how to eat well and hydrate well when the time is tight and the options are slim. Robin felt inspired to give busy consumers choices that weren't just "the lesser of the evils," but that were truly nourishing.
Robin's vision of a healthier convenience store and "convenience without compromise" would eventually become Water Elephant.
Water Elephant would be a store that didn't limit wholesome options to waxy apples or regular bottled tap water mass-produced by global brands. Robin wanted fresh water purified on site. Rather than heavily processed sodas, Robin wanted a mind-boggling variety of iced teas, flavored waters, and other beverages made with that same purified water. He wanted an all-natural take on the convenience store staples like candy, chips, jerky, and food bars. He wanted his products—with their real and pronounceable ingredients—to not seem like "products" at all. He wanted more flavors of ready-to-drink hot and cold beverages than anywhere else.
Water Elephant wouldn't sell lottery tickets, alcohol, tobacco, heavily processed junk food, or gasoline. It wouldn't sell upsized items for more profit at the customers' expense and it wouldn't seduce them into purchasing products that jeopardized to their health. Robin wanted Water Elephant to have a passionate, knowledgeable staff that valued customers in the truest sense of the word. Water Elephant, Robin hoped, wouldn't just be a "stop in, step out" kind of place. He wanted it to become part of the community.
After years of research and thousands of saved files on the facts, myths, misconceptions, trends, and data about health, nutrition, fitness, water, food, agriculture, and the consumer experience, Water Elephant is precisely what Robin imagined. Since the idea was first born, Robin has attended countless trade and industry conferences and toured many of the new food and beverage concepts around the country.
Water Elephant isn't a convenience store for vices. It's a convenience store for health, hydration, and community. It's part of our heart and soul. Learn more about our greater mission here.